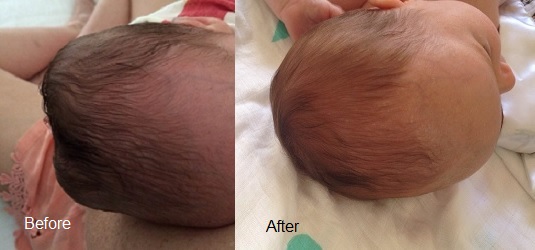 "My baby Florence was born with 2 cephalhematomas  (Hts),  one on each side of her head.  I was told not to worry too much because they are quite common.  Flos's Ht's were pretty big though and they were not shifting at all after a week.
My midwife showed some concern about her not having had Vit K., because I opted out.  She also advised I book her into an osteopath, sooner rather than later, to see if that would help to reduce the Hts.
 So we did the vitamin K  just to have peace of mind because there was a lot of blood in the Ht's.
 I have had good results with Tish for myself so  I knew she was the best person to take Flo to for cranial  but because it was the Christmas holidays and Tish was away I went to an osteopath.  We got no results from this session;  it was very general and not helpful.
When Tish returned we were booked in and within 2 days of Tish working on Flo the biggest Ht had halved in size and was gone about 4 days later. We had one more session and after a week both Ht's have gone!  (Floss is a month old now).
Thanks so much Tish :)"
-Rachel Watts
Stiff Neck & Trouble Feeding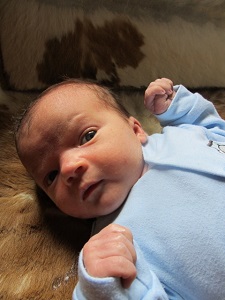 "I hadn't heard of Craniosacral Therapy before but my midwife recommended I take my 4 week old baby to Tish as he seemed to have a stiff neck and was having trouble feeding on one side.
The therapy itself was very gentle and all done whilst being held by myself or Tish.  He didn't get upset at all and I could see the pain drain off his face while Tish was working on him.
He was so much more settled after treatment.  I would definitely recommend this to other Mums"
–C Nicholls